Created independently from any political or religious authority, charity Alwane, which name translates from  Arabic as « Colours », has been founded to support projects developed by civilians to help children affected by the violent conflict in Syria. The charity is actually active in Syria.
Our mission
We aim to support projects which will give Syrian children a psychological and socio-educational help and give them access to education in a peaceful and secure environment.
About us

The charity, based in Lyon-Villeurbanne, was created in August 2012 by Hassan Abd Alrahman, a Syrian musician living in France since 1998.

Alwane was created under the law of 1901 regulating charities in France, and is affiliated to the CODSSY (Syrian Development and Relief Collective), a charity recognised by the French Ministry of Foreign Affairs.
The charity exists mostly thanks to your donations and your subscriptions, as well as the cultural events we organise all year round. All the money collected is sent to the teams working with the children. The programme of events constantly changes so it is important you check the Events page of our site regularly.
Who we are
Board/Committee
Hassan Abdalrahman: president
Mazen Chamseen: vice-president
Fabienne Eustratiades: secretary
Abd Alhameed Issa: treasurer
Board of directors:
Hassan Abd Alrahman: Musician
Mazen Chamseen: Engineer
Fabienne Eutratiades: singer songwriter
Abd Alhameed Issa:
Eram Al Herek:
Emmanuel Brejon: teacher of Arabic
Emmanuel Richardier: video maker
Chris Meunier: retired (Amnesty International)
Anne-Marie Ladevèze
Jacques Huet: retired
All members of our team are volunteers.
Our projects
Since its inception in 2012 and until 2015 Alwane ("Colours") has supported creative activities with Raqqa's children, Antioch's children as well as art therapy workshops for children in Beirut. From 2012 until 2019 the association also supported a kindergarten on the Syrian border.
The association is currently focusing its intervention in Syria where it supports five different projects:
Two educational centers in Damascus area
" Nous sommes l'avenir" ("We are the future") and " Le cours de l'Histoire (« The tide of History")
In order to fight against school dropout among internally displaced children, two education programmes have been developed in Damascus areas where internally displaced families are concentrated. These families are cruelly lacking of resources to face the cost of life and children have extremely limited access to school. More than 300 children are currently benefiting from these two projects.
In addition to the regular topics which are part of the curriculum of elementary, secondary and high school, both programmes also offer drawing, music, sport and language classes. The programmes provided by Alwane, also propose an adapted method for fragile children. A psychologic assistance is provided to help them overcome the violence, cruelty and hardship they were confronted to. A preparatory programme preparing is also proposed to students from secondary and high school students for end of cycle exams. All these programmes are aiming to prepare displaced children of all age to get back on their feet and to catch up with regular school education.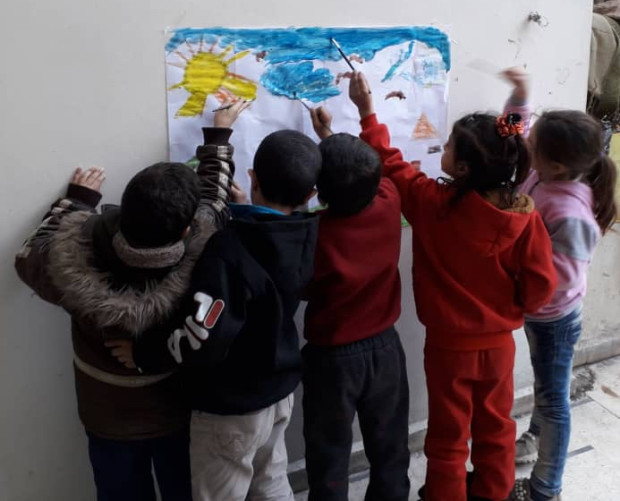 " La Maison du Conte" ("The tale house'') is an artistic expression workshop for twenty children from 5 to 15 years old, traumatised by the violence. A wide range of activities are proposed from The art of storytelling ; marionette theatre; novels and comic strips writing classes.
« The Professional and Artistic Pottery Workshop » was launched early 2019 and offers learning and recreational classes for children, teenagers and adults. Its goal is to promote artistic expression, encourage and help people on their artistic journey. The project also support young talent that are wishing to develop a professional career as a potter.
« The Movie Club », a social and cinematographic gathering, is a free movie theatre, focusing on fighting against any kind of violence. The Club is an open dialogue area and entertaining place for the residents. Movie projections followed by discussion with different stakeholders surrounding themes like children's rights, women's rights and human rights in general. L'association
For more information about our mission, our objectives as well as the complete description of the projects above, please do not hesitate to contact us!
Raise awareness
« Children of Syria, inside the hidden wounds »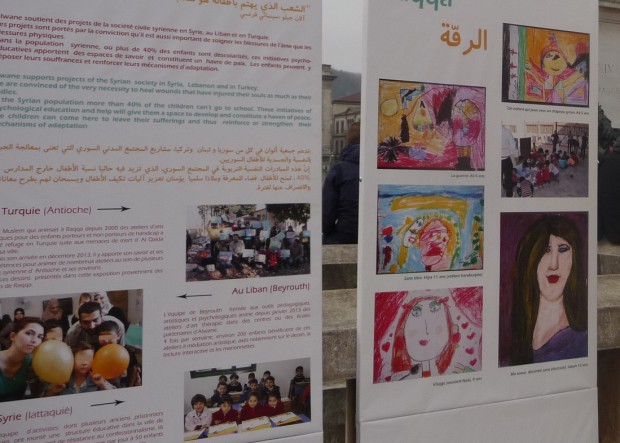 This charity is dependent on your donations, your subscriptions, and on the events we organise all year long. All profits are sent to the people working on site with the children.
Do not hesitate to contact us, your support is invaluable.
 Subscription/donation
The annual subscription is €10, a sign of your interest for our actions. It is more than ever important to act together to help the Syrian civilians who, despite the terrible situation they are in, keep working on supporting, educating and teaching the children.
You can also donate, regularly or as a one off. These donations will be entirely used to fund the projects.
In both cases, please download, fill in and return the bulletin don-adhésion 2020
If you donate €50 or over, you can choose a drawing from our Gallery, and we will send you a copy.
You can pay :
 The money we send comes for a large part from the various events we organise with the help of volunteers. To help you can:
 Attend our evenings
 Organise your own event: craft sale, jumble sale, organise an event with your friends, at work…
 Organise concerts in your home
 If you are a musician or an artist, you can donate the profits from a concert or a show to Alwane.
 Join our team of volunteers: secretaries, translators, accountants, or people to help organise our events (Christmas markets, sales…)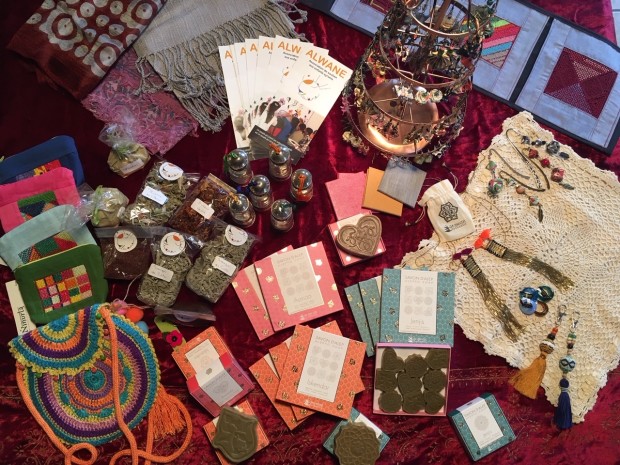 Each of you has a unique set of skills, and you can always help, even if only occasionally.
Contact